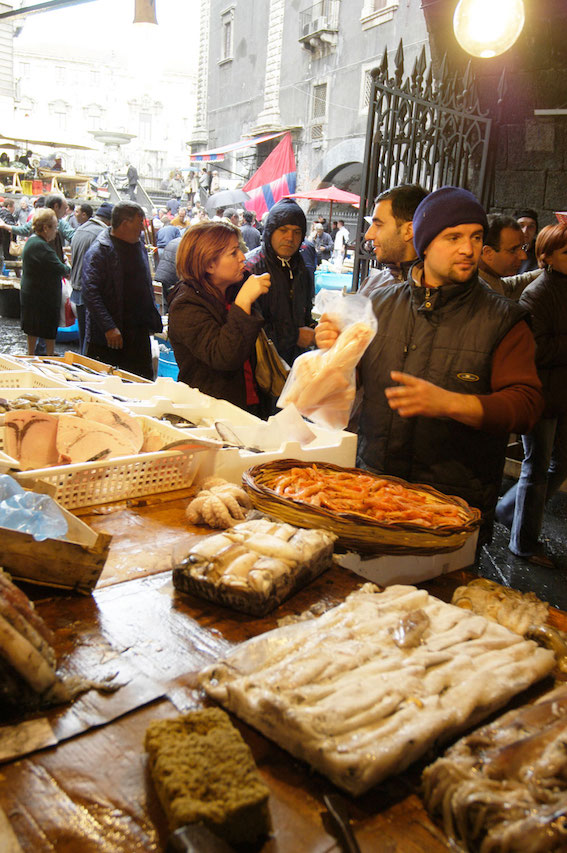 A walk in the baroque heart of Catania, to learn about its history, monuments, beauties but also its many gastronomic specialties
 At the Piscaria, the oldest and most colorful open-air market of Catania, you'll taste cold cuts and cheeses, like spiced pancetta or pecorino cheese with black pepper, as well as a selection of traditional snacks, like calia, chickpeas cooked in hot sand.
Along our way we won't miss the famous Sicilian cannolo and other pastries in one of the most appreciated pastry shops in town. Final stop in a cafe for a tasting of Sicilian street food – such as an arancino in its Catanese version, with fried eggplants and basil – or in a trattoria, the perfect place to enjoy a lunch with a nice selection of tasty appetizers (the Italian antipasto): caponata, eggplant parmigiana, zucchini in agrodolce with salted ricotta cheese and mint.
Want to add an extra activity? Try our pizza making class in a nearby pizzeria to discover the secrets of this world famous dish and its Sicilian versions
• Walking tour, led by a Sicilian food storyteller (1 every 25 people) Note: tour guide not included
• Radio system for guided visit (1 receiver + headset pp, from 16 people)
• Food tastings along the way
• One of the following options: (last stop of the tour)
1 Street food: selection of typical street food. 1 glass of wine or 1 beer or a soft drink pp, water
2 Antipasto: selection of about 10 Sicilian appetizers. 1 glass of wine or 1 beer or a soft drink per person, water, coffee
3 Pizza: you learn how to make pizza from scratch and prepare some traditional Sicilian pizzas. All the pizzas prepared are served as a pizza tasting. The menu also includes appetizers and dessert. 1 glass of wine or 1 beer or a soft drink per person, ½ lt water pp; coffee
Duration of the experience
Minimum 2 persons – maximum 100 persons