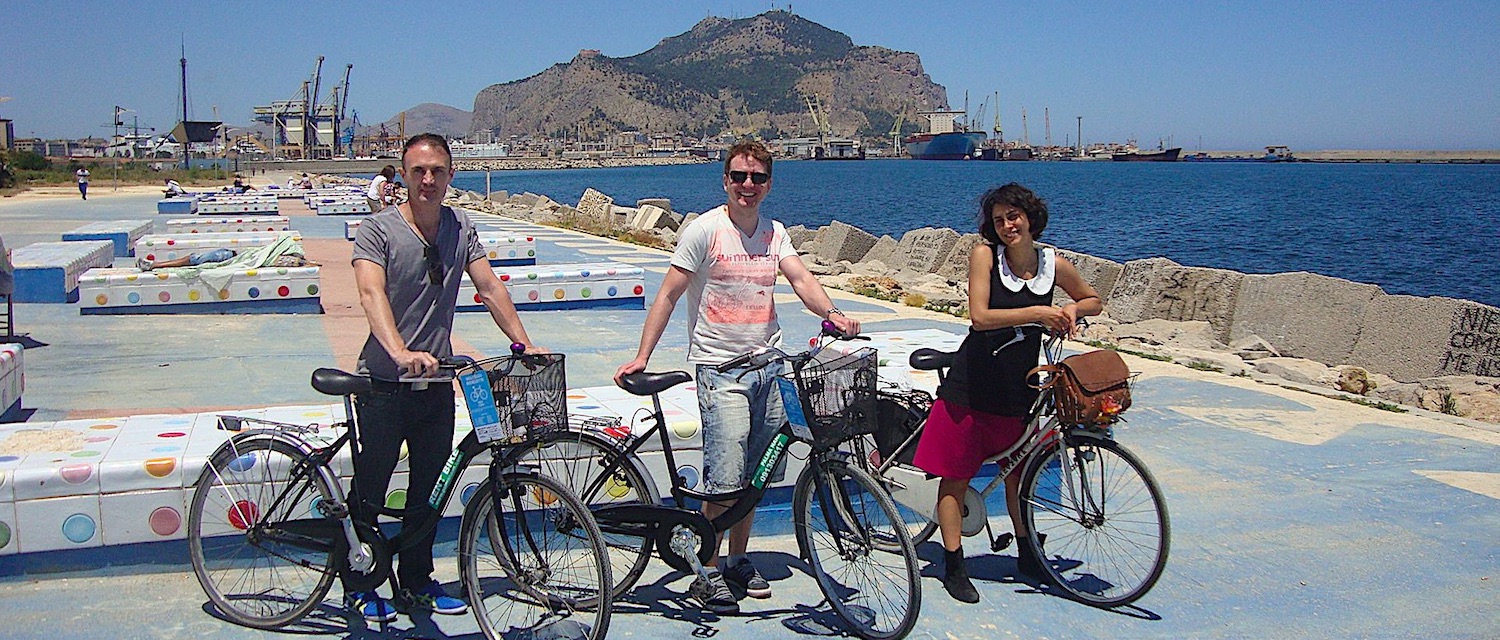 A tour of Palermo's old city center by bicycle
Tour of the old town center by bike or on foot
The tour will take the participants through the main streets of the center of Palermo and the small alleys in the old town. During the tour, the history of squares, old buildings, markets and people, who animate the city, will be told. The itinerary will show the different faces of Palermo: stories, charm, smells and tastes, myths and legends. The bike ride will follow this route: Via Libertà, Via Ruggero Settimo, Capo Market, Ballarò Market, Jewish Ghetto, Vucciria Market, Rione degli Spersi, Kalsa, Foro Italico and Cala. If the tour is taken on foot, it may follow a different route depending on the participants' preferences.
Street Art tour by bike or on foot
The tour will show life in the old town from a point of view that has street art in mind. The bike ride goes through the following neighbourhoods: Albergheria, Kalsa, Loggia and Borgo Vecchio. During the tour, the guide will show the many graffiti in Palermo and tell about the meaning of these graffiti, about those who have painted them and the relationship of the graffiti to the city. You can read an interesting article in English here www.sicilystoriesandmore.it
The walking tour starts from the Kalsa neighborhood, goes through Ballarò and ends at the Vucciria market. A trip by the sea where you discover the seaside resort of Mondello by bike or on foot
The trip will go to Mondello, where the white sand and the clear water will form the background for the  tales of its traditions and transformations that have influenced the relationship between the sea and the inhabitants of Palermo.
A walking tour to see old and new crafts in Palermo's old town center
The tour helps participants discover the many traditional and new craft shops in Palermo's old town center. During the tour we will visit studios and old shops that still keep the craft traditions alive by renewing and adapting them to modern life. Tourists will meet the craftsmen who will explain the techniques they use and show how they make their products.
Min 2 persons
Max 20 persons
Rent of bicycle
Bicycle helmet
Authorized guide
Centre of Palermo and surroundings
Klassen afholdes på engelsk, fransk, spansk, tysk, arabisk og italiensk eller italiensk.